About this Specialization
Electrical energy generation, transportation, and utilization systems are constantly evolving, and the cornerstones of these changes are power electronics converters. The Power Electronics – Converter Circuits Fundamentals Specialization program reviews the most important converters and their operating principles, offers you the opportunity to expand your knowledge and prepare you for active participation in the forthcoming transition in how we use electrical energy.
Whether you are an electrical engineer looking to branch out into a new field of study, or you simply want to refresh your power electronics knowledge, the Converter Circuits Specialization course is designed to provide the additional information and clarification you need to succeed in your power electronics applications. Only a basic understanding of electrical engineering concepts is needed as a prerequisite for the Specialization, so you can follow the material even if you do not have a strong electrical engineering background.
After completing this Specialization, you will:
There are 5 Courses in this Specialization
Have you successfully completed all the courses within this specialization?
Get your Certificate of Specialization!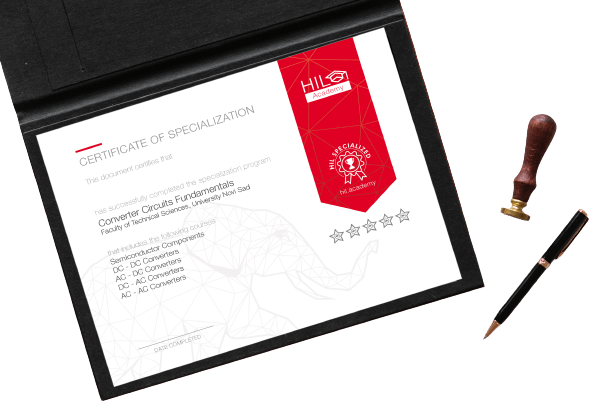 Faculty of Technical Sciences, University Novi Sad
The Faculty of Technical Sciences is a higher education institution located in Novi Sad, an independent part of the University of Novi Sad. It was founded in 1960 and today, with about 1200 employees and almost 14,000 students, is one of the largest faculties in the region.